Fusion In Fashion, Denim Of West With Kurtis Of East In India
Posted by Admin on March, 20, 2021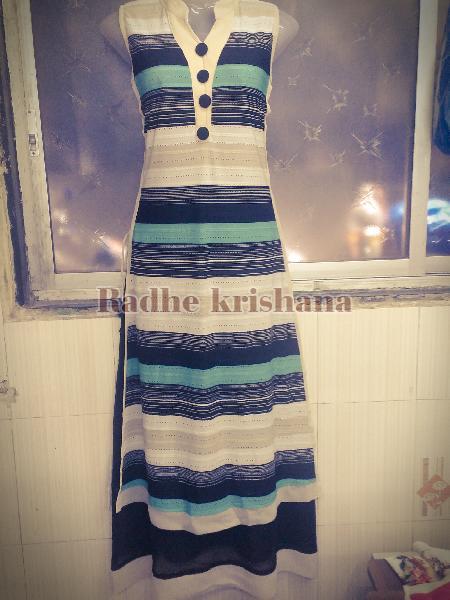 Kurta
A collarless, loose shirt mostly worn in the south Asian region is called a kurta. This outfit is moderation of nomadic tunics. This is a daily wear garment but also sometimes worn at traditional parties and occasions. The party wear kurtas come with fine embroidery works of various designs. The daily wears are rather simple.

Kurti
Kurta for females is termed as kurti. Kurti is a garment worn in the upper part of the body. It can be either worn independently or might be paired with trousers of various kinds. Kurtis has various lengths. It is different, from a traditional blouse-like garment called choli. The length of choli is up to higher waste and leaves the midriff exposed.

Kurti marks its origin in the Indian subcontinent, which with modernisation has become popular in many parts of the world. But kurti traditionally was popular in the northern parts of India only, later it is worn and marketed in the whole country. It encompasses jackets, waist-length blouses and waistcoats. This outfit is with no opening in front or back.

Origin and forms of Kurtis
Kurti bears different looks from different regions. In Punjab, kurti appears to be like a short waistcoat made of cotton. It might have buttons or chords to tie. Similarly in other regions like Bihar, Gujarat, Rajasthan etc, kurtis are of waist-length with beautiful mirror works. A kurti might be sleeveless or have sleeves of short and long measurement. The length of the kurti is decided according to the wish of the shopper.

Fashionable Denim Kurtis
Traditionally, this form of garment is fabricated by silk or cotton. But nowadays, creating a fusion of western wears and eastern dresses have resulted in several variables. Denim kurtis are one of them which ladies denim kurti manufacturer in India, has come up with.

Denim kurtis is quite popular all over India and Mumbai is considered one of the most fashionable states in India. Therefore ladies denim kurtis manufacturer in Mumbai is numerous. The manufacturer supplies this kurtis to retail sellers throughout the nation. In an economy like India, there are several buyers and sellers of a diverse range. Hence any types of fabrics are produced on a huge scale and are distributed among these sellers widely.

Kurti Manufacturers
The garment manufacturers make the denim kurtis with the help of professionals who possess the aptitude for fashion designing at higher levels. They assist in bringing forth the fashion in trend, comforts and fine finishing, thus they help to create a collection of stylish ladies wear employing their creative ideas. Most of them follow strict research and development regarding the textile used. These outfits are made so, it comes in various prices ranges that fit everyone's budget.

A garment manufacturer needs to keep in mind several things that include the after uses of the cloths. These kurtis are made sure of the after wash shrink resistance, colour protection and durability. Other than selling through retailers, the garment manufacturing industry has also spread its wings for selling its products through digital media directly to the customer. This helps to build a direct relationship with the customers. Thus there always exists competition regarding flawless product ranges.

Conclusion
Companies attend moral business practices. They are very much capable of accepting bulk consignments and meeting the demand on time with proper and safe logistic services. Thus ladies denim kurti manufacturer or any garment manufacturer is prospering widely, especially in a country of such a high population.
This entry was posted on March, 20, 2021 at 12 : 31 pm and is filed under Denim Ladies Kurtis. You can follow any responses to this entry through the RSS 2.0 feed. You can leave a response from your own site.